Our newest products...
ADE +C Skin Recovery Cream

California Concept announces its Ultra Rich Skin Recovery Cream for Post-Treatment Healing!
California Concept Skin Care announces the newest addition to our natural skin care line with our Skin Recovery ADE +C. A rich, healing cream containing 2% Panthenol and 2% Vitamin E plus Antioxidants A,D & C along with their signature ingredient pure Aloe Vera. Vitamin E is the major naturally occurring lipid-soluble antioxidant protecting skin from the adverse effects of oxidized stress including photoaging (sun damage).Topically applied Panthenol and Aloe Vera have been reported to speed wound healing by 50%. This rich moisturizer is a protective vitamin complex cream. The natural jojoba and macadamia nut oils enhance the richness of the formula. No color added.

The perfect extra rich, healing formula for dehydrated, irritated or environmentally-stressed skin!
The Ultimate Natural Sunblock

This is the one that'll keep you looking great for years to come. It uses NO chemical sunscreens and it's Paraben free!!

Protect your skin from UVA/UVB broad spectrum radiation with California Concept'sUltimate Natural Sunblock SPF 25 containing micronized zinc oxide and titanium dioxide. This light formula is non-oily and leaves skin feeling clean and soft. This gentle formula is excellent for all skin types, even for oily or sensitive skin and is paraben free! Zinc oxide and titanium dioxide are physical sunblock ingredients that form a protective barrier over the skin, stopping UV rays from penetrating the skin's surface. Titanium dioxide protects in the UV range from 290-340 nm and protects fully against UVB radiation. It fully protects against UVB radiation but only protects against the short UVA radiation 320-340 nm. Zinc oxide covers from 290-380 nm and therefore protects against UVB 290-320nm and most of the UVA 320-400nm. Contains no chemical sunscreen ingredients.
Our Skin Recovery Kit was developed for use by skin care professionals to help clients heal after skin treatments such as microdermabrasion, chemical peels, extractions, exfoliation and waxing/hair removal. It is also effective for soothing minor burns, sun and wind burn as well as other skin irritations. The Skin Recovery Kit includes the following three Aloe Vera based products: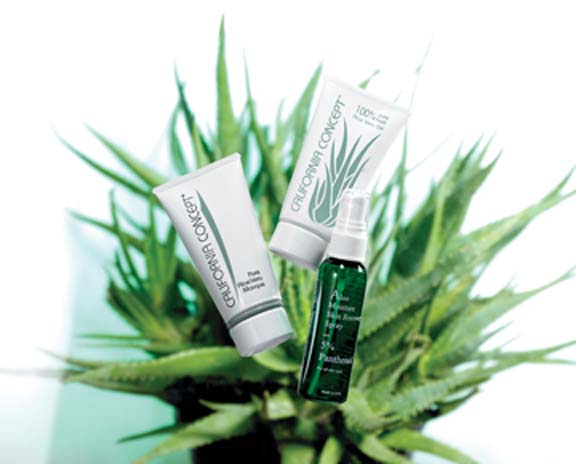 California Concept Pure Aloe Vera Gel

99.7% Pure Aloe Vera "The Natural Healer" from organically grown aloe vera plants. Inner leaf gel, no fillers, not dried or processed, maximum enzyme effectiveness. A premium, professional grade product!

Aloe Moisture Skin Recovery Spray with 5% Panthenol

A soothing, healing and moisturizing spray for all skin types, the formula includes 5% Panthenol (Pro Vitamin B), Aloe Vera Juice, Chamomile & Plant extracts. An excellent post-treatment spray that moisturizes and speeds healing.
Pure Aloe Vera Masque

A soothing, anti-irritating, healing gel masque with a high percentage of Aloe Vera Gel plus Panthenol and plant extracts.
Other New Products Include...
Triple Plus Antioxidant™  Eye Cream
Moisturize, Repair and Protect the delicate skin around your eyes with this rich moisturizing formula fortified with powerful antioxidants. Prevent free radical damage that causes lines and wrinkles. Contains aloe vera gel, jojoba oil, green tea extract, licorice extract, grape skin extract with resveratrol, Vitamins A,C,E, alpha lipoic acid. This cream is also excellent for moisturizing and protecting lips. No artificial color or fragrance added. The unique purple color occurs naturally from the grape skin extract.
Ingredients: Aloe Vera Gel with full water (aqua) content, Glycerine, Caprylic/Capric Triglycerides, Stearic Acid, Cetyl Alcohol, Glyceryl Stearate SE, Jojoba Oil, Allantoin, Panthenol, Witch Hazel Extract, Green Tea Extract, Licorice Extract, Grape Skin Extract, Tocopheryl Acetate/Vitamin E/ Retinyl Palmitate/Vitamin A/ Ascorbyl Palmitate, Alpha Lipoic Acid, Collagen, Methylparaben, Ethylparaben, Imidazolidinyl Urea. No color or fragrance added.
Alpha Lipoic Acid Cream w/ Green Tea Extract and Vitamins A & E
This is an effective antioxidant, anti-aging and anti-inflammatory daily skin cream. Alpha Lipoic Acid is one of nature's most advanced, powerful and effective antioxidant and anti-inflammatory substances.  With 100% pure, fresh Aloe Vera, Green Tea Extract, Vitamins A& E, our Alpha Lipoic Acid Cream works hard to improve the overall appearance of your skin to make it more vibrant. It may be especially effective in reducing fine lines and wrinkles, treating enlarged pores, bringing a healthy glow to dull, pallid skin and reducing the appearance of under-eye bags/puffiness and blemish scars.
Alpha Lipoic Acid is a super antioxidant, it is water- and fat-soluble and can penetrate any part of the cell that needs protection. It plays a special role in quelling inflammation, the condition that precedes lines and wrinkles. Alpha Lipoic Acid is not an Alpha Hydroxy Acid!
Green Tea Extract is loaded with polyphenols which have antioxidant and anti-inflammatory properties and have been shown to increase the body's resistance to cancer.
Vitamin A in the form of Retinyl Palmitate is a good choice for visibly damaged skin because it has shown to increase collagen and reverse sun damage.
Vitamin E in the form of Tocopheryl Acetate is known to reduce inflammation and promote wound healing.
Finally, our primary ingredient is Aloe Vera Gel/Aloe Barbadensis Miller from the inner gel of the leaf. The application of Aloe Gel to the skin accelerates fibroblasts. Fibroblasts are found in the dermis of the skin and are responsible for the fabrication of collagen. Skin absorbs moisture from Aloe Gel three to four times faster than water.
Hydrating Lift Cream w/ DMAE and Vitamin C Ester
An intensive skin treatment that lifts, firms and hydrates the skin. DMAE lifts and firms, Green Tea Extract and Ascorbyl Palmitate/Vitamin C ester aid in reversing sun damage, Beta Glucan has anti-aging, healing and cell renewal properties. These powerful ingredients are in a base of Aloe Vera Gel known for healing and stimulating collagen production. Powerful antioxidants, vitamins A/Retinyl Palmitate/, C/Ascorbyl Palmitate/, E/Tocopheryl Acetate/, protect skin from free radical damage to prevent premature aging and wrinkling. Jojoba oil, collagen and elastin also add hydration without clogging pores. This luxurious treatment is for normal to dry skin. No color or fragrance added.
What are the key ingredients?
DMAE (Dimethylaminoethanol)
Dermatologist Patricia Farris, MD, Clinical Assistant Professor at Tulane University School of Medicine spoke at the American Academy of Dermatology's Derm Update 2002 and stated, "Recently, topical preparations containing DMAE have been touted for their ability to improve skin firmness and lift sagging skin. This is the first time that we have seen evidence that any topical treatment could be helpful in treating the anatomic changes that occur as a result of aging. Split face studies showed that patients using topical DMAE show subtle yet appreciable lifting of the eyebrows, jowls and cheeks, but the mechanism of action in the skin is unknown."
Beta Glucan.
"Derived from yeast cell walls, beta glucan is well-regarded for its ability to stimulate the skin's natural defense mechanism….Capable of absorbing 10 times its weight in water, this excellent wound healer helps ease sunburns on a number of fronts by serving as a topical moisturizer, reducing wrinkles, protecting the skin against infection and forming a protective barrier on the skin while not interfering with normal skin respiration." Day Spa Magazine, July 2003
Vitamin C Esters. Vitamin C does more than inhibit skin-damaging free radical activity. It is also required for collagen synthesis, which declines markedly in aging skin. As humans age, they suffer diminished microcapillary circulation within the skin, thereby depriving skin cells of the supply of vitamin C it needs for youthful collagen synthesis. The topical application of vitamin C in a skin-penetrating medium can enhance the availability of vitamin C for collagen production." LifeExtension Magazine, Skin Aging